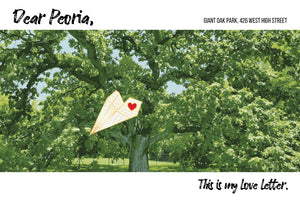 1000 Love Letters to Peoria: Sending my Love.
Dear Peoria,
I want to send you a love letter. When I first moved here to start my time at Bradley, I had just learned of your existence. I was nervous and excited to start college and meet new people. I am not the most outgoing person but luckily I met a few locals on campus. Since then the Peoria community has accepted me completely. I have been loved, protected, and supported by so many people here. Although my family is far away I have never felt alone and when I have needed help with jobs or places to stay, help from the community has always been one Facebook status away.
Since my last website launch and update, I have been quiet. I was blindsided by Covid-19 like many other businesses and didn't expect it to disturb my small supply chain as much as it did. It has put a lot of new products I had on hold. I also was mourning the loss of my Grandmother during this time. What surprised and saddened me most was the deaths of Breonna Taylor and George Floyd. Covid-19 and the years of disenfranchisement of the black community have resulted in worldwide protests and calls for change. Through my mourning and these recent events, I have remained quiet on my business accounts and social. I fully support and believe Black Lives Matter and that my life does matter. As a black woman, I am angry. I am always angry when black women and men die in police custody with no accountability, when black women go missing with no help from police or search parties, and when black people die in hospitals pleading for help and are ignored. I am always angry, tired, and saddened but this can not continue. I needed to find a way to best impact and help my community, to take my anger towards this history of injustice and direct it towards change. I have been listening, watching, and thinking about what I can do and where my place is in this call for action and accountability. I have seen some ugly in the community that caused me to become angry but also saw a lot of love in the community that gave me hope. In honor of Pride Month and Juneteenth, I wanted to use my anger and skill to support organizations that are doing the work. I am in awe of the worldwide call for justice and equality but I also realize that the change has to start locally and Peoria needs that change badly.
Through this campaign, I invite you all to send a love letter to Peoria by purchasing this 1.5-inch hard enamel pin and large postcard size print of the Giant Burr Oak tree found here. While 10% of the proceeds will go to producing the pins and orders, 90% will be split between four community groups; Center for Prevention of Abuse, Central Illinois FRIENDS, Girls Light Our Way, and Young Revolution. I choose these organizations because they service a venerable sector of our community and are causes that affect the black community at an alarmingly high rate in comparison to all other ethnicities. I will not be taking any of the proceeds but if you would like to tip the designer then you can at check out. Learn more about these organizations below.
All of these causes are local and are doing the work to serve the black community and the City of Peoria. The change we need in Peoria is already here but the voices need to be elevated and supported. My hope for this campaign is that we all can show our support and send 1000 love letters. Please share and like the posts. I will post updates weekly on the campaign until all the pins are mailed out. Let's spread the love one letter at a time. Feel free to send me digital love letters by tagging me in your stories on Instagram and I will share them!
This campaign will run for 30 days from June 15th to July 15th. This is a preorder and will not be on sale ever again. The pin will go into production on July 16th and will take 4 to 6 weeks to manufacture depending on the quantity. Weekly updates on the campaign will be shared on the blog and social media. Emails will go out for those that have ordered with updates when production begins.
---
1 comment